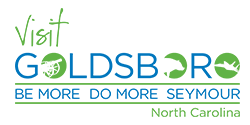 We could go on about our legendary BBQ joints, scenic state park, historic sites that date back to antebellum era, and brag about the daily airshows we witness as F-15E Strike Eagles soar across our skies, but what Goldsboro's appeal really boils down to is its originality. Goldsboro doesn't try to offer the stocked tourism menu folks can find in most cities. Instead, we capitalize on the simple way of life that gets lost in the technology and noise of metropolitan settings.
The Bryan Multi-Sports Complex opened April 23, 2018 and has already been recognized as one of the top sporting facilities in the country by Connect Sports because of its pristine amenities and unique origins. The reason this sports complex exists is because of the collaboration between the City of Goldsboro and Seymour Johnson AFB to create something for the region that benefits its quality of life. This prototype project is this first of its kind and has set the bar high for what athletes should expect to compete at their best.
Competing in the best venue possible is a guarantee when coming to Goldsboro, but we also know that our downtown's beautiful new streetscapes, expanded multi-use greenways, and numerous boutique shops, eclectic eateries and tap houses are key ingredients to hosting a successful and meaningful tournament for our MLQ friends. We know how important it is to provide an authentic experience for each player, staff member, volunteer, and fan. And, lucky for Goldsboro, we specialize in out-of-the-box experiences that will make us an exciting choice for your next sporting event.
Venues Include